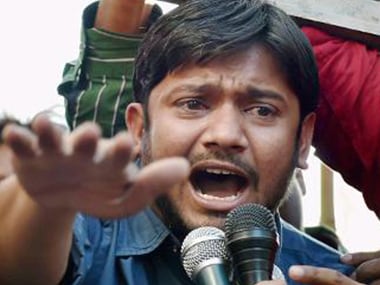 Why JNUSU Kanhaiya President Has A Great Future in Congress – Politics News, Firstpost
Over the past three days, the national media have covered extensively Kanhaiya Kumar, the president of the Jawharlal Nehru University Students Union (JNUSU).
By Prakash Nanda
Over the past three days, national media have covered extensively Kanhaiya Kumar, the president of the Jawharlal Nehru University Students Union (JNUSU), who was released on bail from Tihar Prison after being indicted by Delhi Police Sedition. charges. On the night of the release, he gave a haunting speech that was broadcast live by almost every TV channel. The next day, he spoke at a live press conference. The print media did not lag behind in news and opinions, giving the impression that India is Kanhaiya and Kanhaiya is India.
I also heard Kanhaiya speak. He came out as a forceful speaker, one of the best I have heard. No wonder a retired apolitical civil servant friend (who had held high positions as an IAS officer), my superior during my university days, said: "I was very impressed to hear Kanhaiya Kumar's speech live after his release from Tihar. I liked his fluid oratory, his conviction and his commitment to social democracy. He has won over a large majority of people perhaps because he is superb in Hindi. And his thought process is surprisingly consistent, devoid of vindictiveness. Definitely a role model for the country's nextgen politicians. I wish him a long and successful political career ahead.
This is the best observation on Kanhaiya that I have heard from my colleagues, friends and critics. There can be no counter-opinion on his oratory qualities. When it comes to political communication, he is as good, if not better, than former Prime Minister Atal Behari Vajpayee and current Prime Minister Narendra Modi. Kanhaiya is a politician every inch. But he, and here many "bhakts" of Kanhaiya will not agree, has no scholarly touch. An academic researcher at India's premier university, Kanhaiya does not appear to have intellectual depth, if his speech was any indication.
Let us see the content of his speech. It was full of "kranti" (revolution) within the limits of the Indian Constitution (it is obviously because of this Constitution that a person of his background could study at JNU); threat of capitalism; caste exploitation; communitarianism, particularly widespread by RSS; evils like Modi and Smriti Irani, especially their "conspiracy" against the oppressed, and so on.
Now, what is new on all these points, especially from a person with a communist tendency (Kanhaiya's father was a follower of the Indian Communist Party and Kanhaiya belongs to the AISF, the student wing of CPI)? Day after day, he must have heard and practiced all these "krantikari" (revolutionary) speeches. "Lal Salaam", "RSS murdabad", "capitalism murdabad", "imperialism murdabad" and America murdabad "have been the basic slogans of all leftists in the country (RSS-bashing has of course been a little more generalized to include the Congress Party too.) I heard all of this as a child and heard it more recently from Kanhaiya the other day.
It brings me back to JNU student politics and some of the JNUSU presidents who chose politics as their career and left their mark on national politics. Let me reveal that I was a student leader in JNU and a member of JNUSU. From my experience, I can speak of Prakash Karat (I only heard him in election time as he had already left campus by the time I arrived at JNU), Debiprasad Tripathi, better known as of DPT and Sitaram Yechury as Presidents and the late Divijay Singh (a closest friend of mine) as General Secretary.
I learned the other day from the DPT (who always treated me with love and affection like an older brother) that Congress leader Ashwini Kumar (a cabinet minister under the leadership of Manmohan Singh) is also a former student of JNU. Then there is my contemporary Nirmala Sitaraman, who, like me, was not aligned with any political party as such, even though she did not participate in the elections to enter the JNUSU.
Karat, DPT, and Sita were outstanding speakers, but unlike Kanhaiya, they were (and are) great intellectuals. If they had opted for academics, each of them would have been a great scholar of international renown. Arguably Kanhaiya is in the mold of Divijay – fluency in Hindi with content that might appeal to a wider audience than small intellectual gatherings. Of course, Kanhaiya will have an advantage over Divijay when it comes to the mode of speech.
Let us now take a look at the careers of these leaders. Karat became the leader of CPM, India's largest communist party that believes in parliamentary democracy. Sita is the current head of the CPM; Furthermore, he is also a member of the Parliament of Rajya Sabha, having been elected by the Assembly of West Bengal. The DPT is also a member of the Rajya Sabha, but it has passed through the Maharashtra assembly, thanks to the Nationalist Congress Party led by Sharad Pawar of which he is also general secretary. Ashwini Kumar, still a member of the Rajya Sabha, represents the Punjab. Divijay, who came to both Rajya Sabha and Lok Sabha at different times, represented JD (U), then a BJP ally (although his last stint at Lok Sabha was as an independent after s 'being refused a ticket by Nitish Kumar). Nirmala is a member of the BJP in Rajya Sabha, courtesy of BJP ally Telugu Desam in Andhra Pradesh.
If we take it a step further, we can see from the above that for a JNU student leader to be successful in national politics, he or she must have an established political party to support him or her. The larger the party or party alliance, the greater the achievement. A party like the CPM or the NCP will at most make you a deputy; but to become a minister you have to belong to a bigger national party like Ashwini Kumar of Congress, Divijay of a BJP ally and Nirmala of BJP.
So where does Kanhaiya, who, according to the predictions or impressions of his "bhakts" inside and outside the media, be the archenemy of none other than Modi, is in reality? ? His party, the CPI, literally lives off the oxygen the CPM provides in Indian politics. In other words, Kanhaiya has no political future at the national level if he sticks to the CPI, also at a time when the CPM is fighting hard to regain its former glory. Kanhaiya cannot go to BJP, given his strong ideological background. I think Congress is a party he should look forward to. I would love to see Kanhaiya as an MP or Minister of Congress.
But then there is every chance that Kanhaiya will reject my unsolicited advice. He could well say that for him, principle and loyalty matter more than opportunism; he could give a wonderful talk on why he would like to be a poor man in CPI rather than being a king in Congress. And my respect for him will increase even more if he says so. However, I have a problem with his "bhakts". Addressing a rally of 3,000 students (at most) at JNU in front of the TV channels is one thing, but winning an election to enter Parliament as Modi's direct challenger (now it feels sad for Arvind Kejriwal, which was only comparing itself to Modi) is a different ball game. But the "bhakts" add to Kanhaiya's ego that Modi has done nothing lately but conspire against him day after day. It is the surest way to ruin a very promising political talent, which otherwise should be nurtured to animate and strengthen Indian democracy.