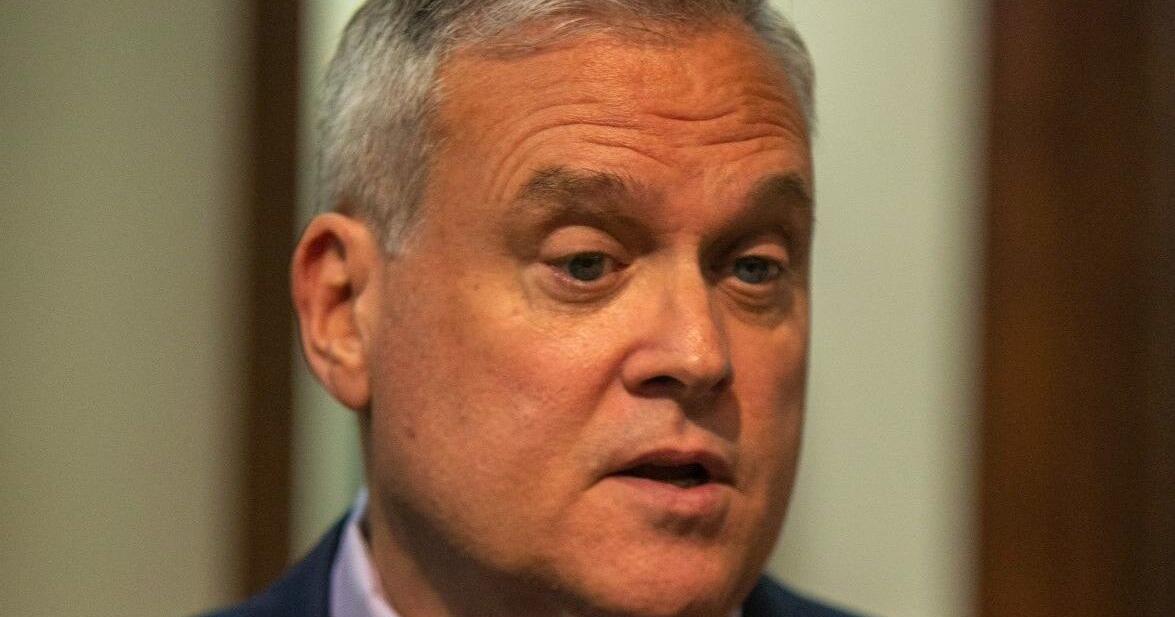 St. Louis County Alderman Tim Fitch will not seek re-election | Politics
[ad_1]
CLAYTON— One of the harshest critics of the St. Louis County Executive, Sam Page, on the county council, decided against seeking a second term.
Councilman Tim Fitch, R-3rd District, said Tuesday he has decided he cannot commit to another four-year term. His decision did not depend on his removal from the 3rd district on the council's new district map, he said.
Fitch, who joined the board in 2019, said he was exploring other options to remain involved in politics in the coming years, but declined to provide further details in an interview.
"You can't spend 35 years in county government and then just walk away from it," he said.
His withdrawal from the ticket appears to leave former Fenton Mayor Dennis Hancock as the only Republican primary candidate in the 3rd District.
Former state Rep. Vicki Lorenz Englund, a Democrat from Sunset Hills, and Jeanne Chickanosky, a libertarian from Kirkwood, also filed for the 3rd District council seat.
Fitch, a former county police chief, had been one of the most vocal members of the county council and one of the fiercest critics of Page, a Democrat.
While Democrats have long held a majority on the seven-member council, Fitch has had considerable power over the legislature over the past year under a bipartisan majority critical of Page. The majority included Rita Days, D-1st District, Shalonda Webb, D-4th District and Mark Harder, R-7th District.
Fitch endorsed Rep. Shamed Dogan, a Republican from Ballwin who is running for county executive.
Fitch, who lives in a Creve Coeur apartment complex at 13115 Mill Crossing Court, would have had to travel at least a mile south to run for re-election.
Under new council district lines drawn by a federal court judge last week, the district boundary on Olive Boulevard has shifted several blocks south, leaving Fitch in the 2nd District, an area to Democratic majority represented by Kelli Dunaway.
Fitch had moved from Fenton, in the southern half of the 3rd arrondissement, to his new residence in Creve Coeur about a year ago.
He announced his decision not to seek a second term in a tweet on Tuesday afternoon.
"Serving the people of St. Louis County for 35 years has been the honor of my life. I have been honored by the support of my family and the people of District 3. Due to future family and work commitments, I announcement that I will not be a candidate for this position in 2022."
Serving the people of St. Louis County for 35 years has been the honor of my life. I have been honored by the support of my family and the people of District 3. Due to future family and work commitments, I am announcing that I will not be applying for this position in 2022. pic.twitter.com/nK92I2cqsp

— Tim Fitch 🇺🇲🇺🇦 (@ChiefTimFitch) March 29, 2022
Republicans challenge Clancy
In other new candidate filings, two Republicans will compete in August for the nomination to challenge incumbent Councilwoman Lisa Clancy, D-Maplewood, in the 5th District.
Steven G. Bailey, a retired personal injury attorney from Clayton, once ran for Congress in Missouri's 1st Congressional District.
He will face Jennifer Bird, of Crestwood. Bird ran unsuccessfully for the 5th District in 2014 against then-incumbent Pat Dolan; Dolan was ousted by Clancy in the August 2018 Democratic primary.
Last year, Bird represented the Republican 5th District seat on the St. Louis County Bipartisan Redistribution Commission, a 14-member panel charged every 10 years with redrawing the council's district lines based on changes in population.
Michael G. Lewis of Brentwood also filed for the 5th District seat in the Libertarian primary.
In other County Council races, Council Speaker Rita Heard Days and her previously announced Democratic lead opponent, Jennings Councilman Terry Wilson, both filed in the 1st District. No other candidate applied for the seat.
And Ballwin's incumbent 7th District GOP Mark Harder has Democratic opposition to Chesterfield's Kristine Callis, director of education, research and outreach at the Donald Danforth Plant Science Center.
Page in undisputed primary
Beginning at 3 p.m. Tuesday, the incumbents of the three top countywide elected offices will not be challenged by any other Democrats in the August primary in the Democratic-majority county.
Page, of Creve Coeur, is seeking reelection for a full four-year term. He won the 2020 election to finish a term vacated by Steve Stenger after dominating a four-way Democratic primary and easily defeating his GOP challenger Paul Berry III.
Dogan, who is seeking the GOP nomination for county executive, is the only black Republican in the Missouri Legislature. He said he wanted to form a coalition of Republicans and voters in heavily Democratic and predominantly black St. Louis County.
Katherine Pinner, a Republican from South County, asked to face Dogan.
Randall Holmes of South County ran for county executive in the Green Party primary.
Prosecutor Wesley Bell, a Democrat from Clayton, is seeking a second four-year term after ousting longtime prosecutor Bob McCulloch in the 2018 Democratic primary.
Theo Brown Sr., a Black Jack libertarian, also filed his candidacy.
And County Assessor Jake Zimmerman, a Democrat and former Representative for Olivette State, is seeking re-election for a fourth four-year term. He was first elected to office in 2010.
Zimmerman was one of three Democrats to challenge Page in the 2020 primary, coming in third place behind Page and Mark Mantovani, a retired Ladue businessman.
Zimmerman will face a Republican challenge from Peter Pfeifer, a Manchester estate agent.
Don Fitz of University City ran in the Green Party primary.
Saint Louis
So far, the three city officials up for election this year, revenue collector Gregory FX Daly, recorder of deeds Michael Butler and license collector Mavis Thompson, have drawn no Democratic primary opposition to the city. strongly democratic.
But three Republicans showed up, Robert Vroman for collector, Timothy Gartin for recorder and Michael Hebron for license collector. Green Party candidates Jérôme Bauer and Don Devivo have applied for registration.

[ad_2]
Source link