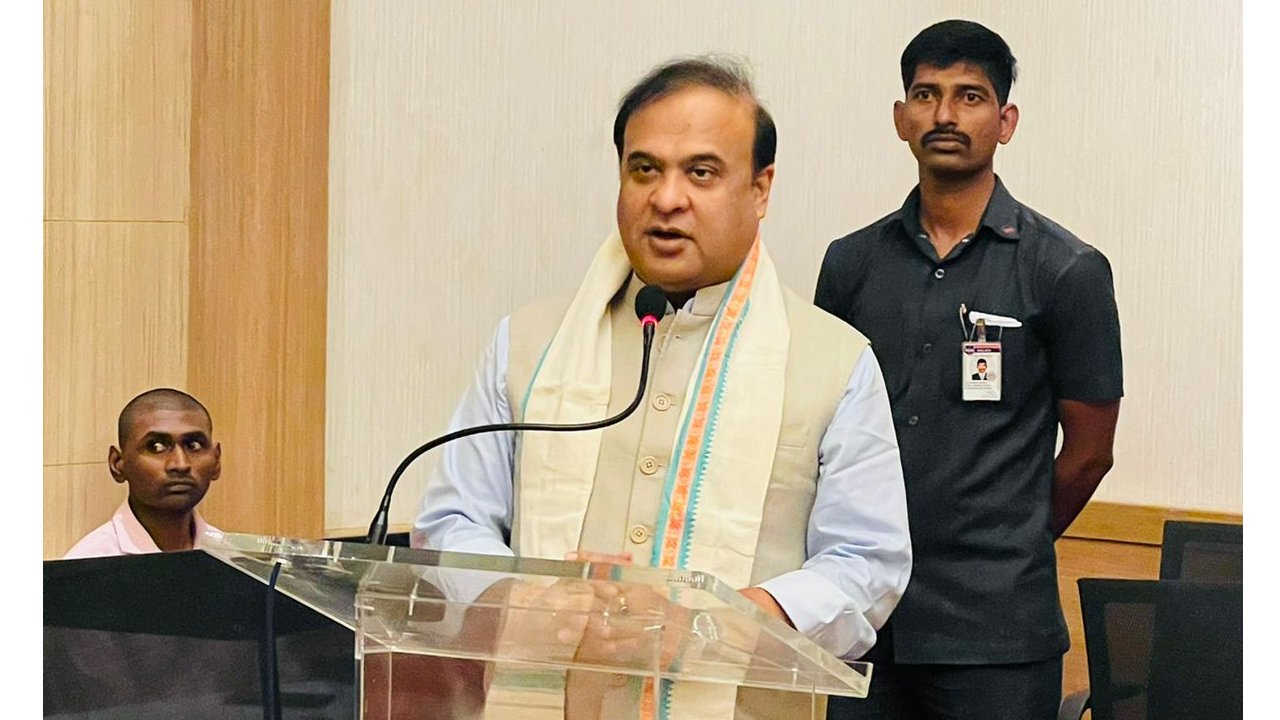 No one will care about KCR in national politics: Assam CM
Hyderabad, Sep 9 (NSS): Himantha Biswa Sarma, Chief Minister of Assam today strongly opposed his Telangana counterpart K Chandrashekar Rao (KCR) believing that the latter had lost the confidence of the people of his State. He claimed that KCR was trying to get into national politics by undertaking tours to various states in the country as he had lost the trust of the people. He also observed that no one would care about the KCR in politics at the national level and added that the TRS would never become an alternative to the BJP at the national level.
Speaking to the media here, Sarma said the country will never become a country without BJP based on the call made by KCR. Claiming that the Telangana Chief Minister KCR has a lot of money, he scoffed that they had no objections if he started a national party. Stating that all family political parties think of their family members, Sarma said the BJP does not promote family politics.
Ridiculating the recent meeting between CM KCR and Bihar Chief Minister Nitish Kumar, Sarma said that although all opposition parties are against Prime Minister Narendra Modi, there is no need for KCR to unite the parties opposition policies. He predicted that the BJP would form the Telangana government after the upcoming assembly elections.
Commenting on Congress leader Rahul Gandhi's Bharat Jodo Yatra, Himantha Biswa Sarma mocked that Rahul should hold the Yatra in Pakistan as the country was divided by his ancestors and not on the roads of the country. (NSS)
---
Next story:
Hyderabad, Mar 12 (Maxim News): Minister of Municipal Government and Urban Development, K Taraka Ramarao, today announced that he has launched the Nala Strategic Development Program (SNDP) to develop drainage systems and all city ​​drains. He said they undertook 60 drain development works at a cost of ₹985.45 crore and added that […]

---

Nizamabad, Sep 9 (NSS): Roads and Buildings Minister Vemula Prashanth Reddy says Governor Tamilisai Soundararajan forgot to hold a constitutional post and was acting like an opposition party leader in Telangana. Minister Prashanth Reddy was the chief guest at the swearing-in ceremony for new members of Velpur and Kammarpalli Market Boards in Balkonda […]

---

Hyderabad, Sep 9 (NSS): The Congress party has decided to nominate Congress leader Palvai Sravanthi, daughter of former Rajya Sabha MP and former minister Palvai Govardhan Reddy, as the party's candidate for the Assembly constituency of Munugodu in the next by-elections. The TPCC officially announced Sravanthi's name from the constituency. He gave the names of […]

---

BJP State Chairman Bandi Sanjay Kumar today alleged that leaders of the ruling TRS party insulted Governor Tamilisai Soundararajan by linking her to their party.

---

The Supreme Court on Friday granted bail to Kerala journalist Siddique Kappan, who along with others was arrested on October 5, 2020 by Uttar Pradesh police under the Prevention of Activities Act illegal (UAPA).

---

The Supreme Court held a hearing on a petition filed by a boy that his father needed a liver transplant. The boy pleaded in court that his father's condition was critical and that he should be allowed to donate his liver.

---
Now you can get the latest Indtoday stories at Telegram every day. Click on the link to subscribe. Click to follow Indtoday Facebook page and Twitter and on instagram. For all the latest updates from Hyderabad News