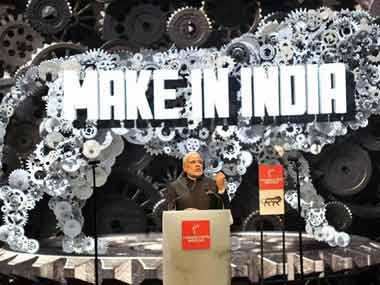 Modi's "Make in India" initiative is a fallacy, according to Congress-Politics News, Firstpost
[ad_1]
Congress on Monday called Narendra Modi's "Make in India" initiative a "fallacy" without corresponding development in defense, tax and commodity prices in its one-year regime.
Jammu: Congress on Monday called Narendra Modi's "Make in India" initiative a "fallacy" without corresponding development in the defense, tax regime and price of essential commodities in its one-year regime.
"One of the biggest failures of 'Make in India' is the multi-billion dollar Rafale Fighter Jet deal that the Prime Minister signed with the French government. The new deal now appears to promote 'made in France' 'rather than made in India, "Congress spokesman Meem Afzal told reporters here.
He alleged that the deal negotiated for more than three years as part of a transparent bidding process by the UPA government included the sale of just 18 Rafale fighter jets from France and the production of 108 aircraft remaining by Hindustan Aeronautics Limited (HAL) through a technology transfer agreement.
"The Modi government bypassed the defense procurement process and defense procurement council established to unilaterally order 36 Rafale fighter jets from France without any clarity on the technology transfer or their production in India by HAL," Afzal said.
The spokesperson said that the Modi government launched the Make in India initiative at every convenient moment, but did nothing to meet the challenges of strengthening global competitiveness in manufacturing demands, restructuring the structure. reverse tax, leveling off high input costs and solving critical logistical issues.
"Exports indeed fell to 23.88 billion dollars in January 2015 against 26.89 billion dollars a year earlier. Agricultural exports of wheat, rice and corn also fell by nearly 29% in 2014-15, equivalent to 135 lakh tonnes. Exports of other products such as tea, coffee, tobacco spices, etc. recorded negative growth, "he said.
Afzal also criticized the Modi government over the recent successive oil price hikes on May 1 and May 15.
"The government has made a whopping Rs 90,000 crore thanks to the rise in oil prices and this benefit goes directly to the oil companies as we continue to maintain that this is corporate governance," he said. he declared.
He said Congress has laid a solid economic foundation for the country and despite the global recession India has seen an upward trend in the UPA's ten-year rule.
"From 2004 to 2014, the Indian economy experienced an astonishing average growth of 7.6%, per capita income tripled from Rs 24,143 in 2004 to Rs 68,747 in 2012. The industry has increased by 7.7%, the service sector by 9.5% and agriculture by 4.1 percent, "he said.
He said that in the last year of Narendra Modi government, even businesses have started to lose trust in government.
"The rural economy and population are in serious distress, the rise in rail freight will impact railways, industries and the rural economy," he said.
He added that the price of basic necessities continues to be high and common people are feeling the heat.
PTI
[ad_2]
Source link