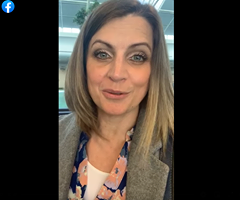 Heidi St. John's campaign finances rise in fourth quarter
The race for Washington's 3rd congressional district has been seen as a battle between incumbent Rep. Jaime Herrera Beutler, R-Battle Ground, and Joe Kent, R-Yacolt, but there's another challenger gaining popularity in the campaign financing.
Heidi St. John, R-Vancouver, raised $247,000 in the fourth quarter of 2021 — behind Kent who raised nearly $300,000 in the same period. She credited the arrival of a new campaign team in November with helping her raise more than five times the amount she had done in the previous quarter.
Although St. John only has a total of $338,000 on hand — which pales in comparison to Kent's nearly $1 million and Herrera Beutler's $1.6 million — she is gaining momentum. .
The Democratic challengers, on the other hand, do not have viable campaign finances.
As Herrera Beutler tries to maintain a strong position in the race for Congress, St. John and Kent, who were endorsed by former President Donald Trump, are aggressively vying for the job.
Kent continues to organize rallies against the self-proclaimed "establishment," as well as promoting his affiliation with Trump, Steve Bannon and other conservative ideologues. St. John, on the other hand, puts Kent's story at the forefront of its campaign.
In one campaign announcement published in late January, St. John criticized Kent's alleged support of Bernie Sanders in the 2016 presidential election. She went on to describe Kent, who was a registered Democrat in Portland at the time, as a liberal porter.
This coincides with St. John's belief that she is the best candidate to represent conservative values ​​rather than "Bernie Bro" Kent or "Republican in name only" Herrera Beutler. St. John, who is an author and speaker on family values ​​and a Christian activist, has been a vocal opponent of COVID-19 mandates, pro-choice movements and the Biden administration, according to her social media platforms.
As the primaries draw closer, campaign finance becomes increasingly important to narrow the playing field. As St. John gains momentum, what Kent previously described as a two-man race to represent Southwest Washington in Congress may no longer be accurate.