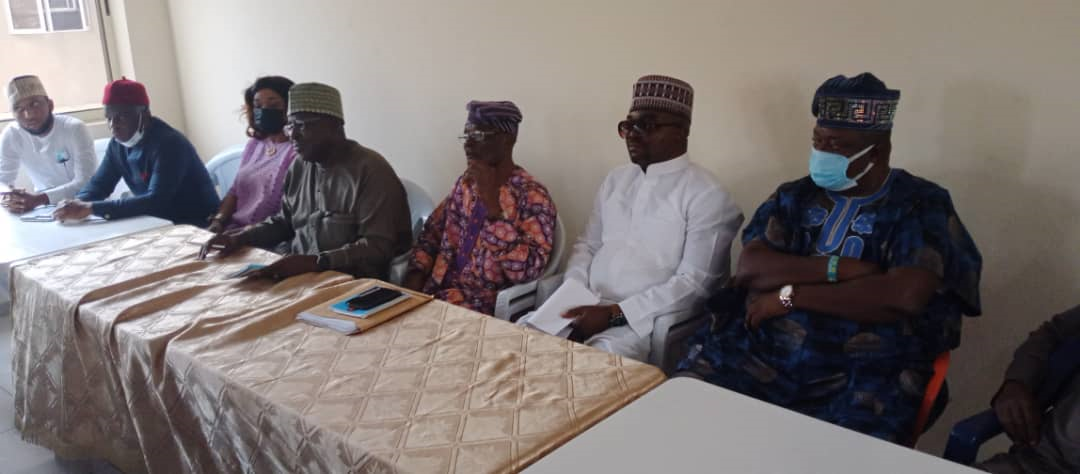 Controversy follows Oyo APC congress committee membership as photo of Gambo Lawan with committee members surfaces
Controversy over the composition of the state congress committee that organized the All Progressives Congress (APC) congress in Oyo state escalated on Monday, following two miscellaneous documents that surfaced showing variations in the composition of the congress committee.
Committee chairman Gambo Lawan disowned four committee members on Sunday when he issued a statement that they were not part of any congress and failed to instruct committee secretary Abdullahi Bello to lead the congress.
The four members, who disassociated themselves from the process, in the statement released on Sunday, were Olanrewaju Edun, Abdullai Kontagora, Diran Iyantan and Ralph Igbokwe.
Apparently, following Lawan's disavowal to the four people, a document bearing the stamp of the National Secretary, APC, containing the names and phone numbers of the seven members of the state congress committee surfaced on Monday.
The stamped sheet of paper that surfaced online, titled: "Members of the State Congress Committee" showed Gambo Lawan as president, Abdullahi Bello as secretary and Raphael Igbokwe, Diran Natan, Edun Olanrewaju, Abubakar Abdullah and Peace Chikelu as members.
The list of the seven-man committee was reportedly submitted to the party's Oyo State section by Gambo Lawan upon his arrival in Ibadan for the congress on Friday, October 29.
Likewise, a photo of Gambo with some committee members also surfaced online.
However, another letter to Gambo Lawan, signed by secretary of the convention's interim planning committee, John Akpanudoedehe, titled "Letter of Nomination: State Congress Committee" also surfaced on Monday.
The letter bearing the All Progressives Congress logo, and dated October 29, 2021, showed Gambo Lawan as president; Abdullahi Bello as secretary; Isiaka Ibrahim, Audu Ajanaku, Zubair Amoka, Chikelu Peace and Abubakar Abdullahi as members.